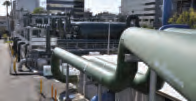 In California and serving a population of nearly 90,000, the Santa Monica Water Treatment Plant and the City's Charnock Well Field stand as examples of the issue faced by many utilities throughout the United States—limited fresh water supplies, mixed and/or emerging contaminants, and tighter regulations.
After more than a decade with the Charnock Well Field closed due to contamination from MTBE (a gasoline additive), the City reached a settlement agreement with the three major oil companies, whose leaking underground storage tanks caused the contamination. The settlements would fund a restoration project on the facilities. On the heels of the lengthy settlement process, Santa Monica faced an urgent need to move toward water self-sufficiency.
Drought limited the volume of water that could be delivered to Southern California from the state water project. Using the city's groundwater wells is a sustainable way to provide water, and this project was on the fast track. In deciding to use progressive design-build delivery for this project, the city selected the design-builder based both on qualifications and approach to problem-solving, with an open-book cost estimate for construction to be made during the 30 percent to 60 percent phase of design.